This Optical cable production line makes FTTH drop fiber optic cable 2.0x3.0mm, 2.0x5.0mm. Cable structure: bare fibers + steel wires/FRP strengthen members + LSZH/PVC/PE sheath, and other similar cables.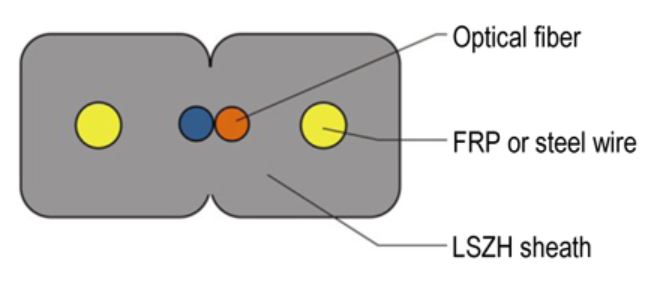 1, Precision special extruder and precision free adjustment head, the extruder is suitable for materials such as PVC, LSZH, PE and other materials.
2. The surface of the cable is smooth.
3. Optical fibers are motorized released. The tension is precisely constant and the additional loss is small.
4. The temperature control is controlled by imported OMRON temperature control meter, and the temperature control is accurate.
5, double-reels automatic take-up, stable and reliable operation, automatic line-receiving of the take-up line, no need to rewind.
6, International industrial computer technology control system with high degree of automation, it can be linked with MES, ERP systems, real time tracking and managing production.
7. The main control systems and components are international famous brands, and the production line has high stability and reliability.



| | |
| --- | --- |
| type | 50/70×25 Extruder |
| extrusion material | LSZH,PVC |
| structure speed | Max.150m/min |
| production speed | Max.130m/min with LSZH material |
| No of optical fiber pay-off reels | 4 |
| Pay-off tension of fiber | 0.4N-1.5N |
| Specification of reinforcement pay-off | PN400 reels and ø254×ø116×ø180×ø32 reels |
| reinforcement Specification | ø0.4-ø1.0 |
| Pay-off tension of reinforcement | 5N-20N |
| Take-up tension | 5-15N |
| Take-up reels Specification | PN400-PN630 reel(central shaft hole diameter ø 56) |
| excess loss after extrusion | 1550nm<=0.02dB/km(single mold optical fiber) |
| Center height of machine | 1000mm from background |



| | |
| --- | --- |
| Items | Qty. |
| Φ800 Stengthen member steel wire pay-off(for 1.0/1.2mm steel wire) | 1set |
| 12 heads fiber/ FRP/ small Steel wire pay-off | 1set |
| Mobile mold supporting | 1set |
| 50 extruder | 1set |
| 50kg Dryer +hopper | 1set |
| IPC+PLC program control systerm | 1set |
| 2.5mm moving water trough and warm water tank | 1set |
| 8mm fixed type cooling water trough and cooling water tank | 1set |
| X-Type laser diameter gauge | 1set |
| 640+400mm dual-wheel capstan | 1set |
| 9m cable accumulator | 1set |
| 400-630mm shafless type dual-shaft take-up | 1set |